WARNING: BLOOD AND GORE PHOTOS AND WRITING. BEWARE!
Welcome to the Blood Spill Wiki
This is a wiki based around a story called 'blood spill' that was started on the 20th July 2013. This wiki was started the 21st July 2013 because the writers had writers block and had nothing else to do. The story is written by two charming people. You can find the story ONLY on Quotev.com. Any other site that holds it has not been published by the writers.
Follow the writers here:
http://www.quotev.com/TheNamesJoshua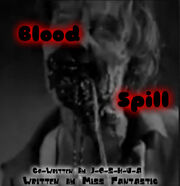 http://www.quotev.com/DatAmazingLink
You can read the story Here

Ad blocker interference detected!
Wikia is a free-to-use site that makes money from advertising. We have a modified experience for viewers using ad blockers

Wikia is not accessible if you've made further modifications. Remove the custom ad blocker rule(s) and the page will load as expected.